Bundu Bashers Tours is our tour division, offering Grand Canyon, Monument Valley and Bryce Canyon tours.
Other Grand Canyon tours are also offered, by air and helicopter.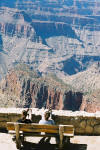 For additional information on Grand Canyon tours, to obtain a quote or make a booking, please either mail us, or call 1 800 724 7767, or (USA) 435 658 2227.